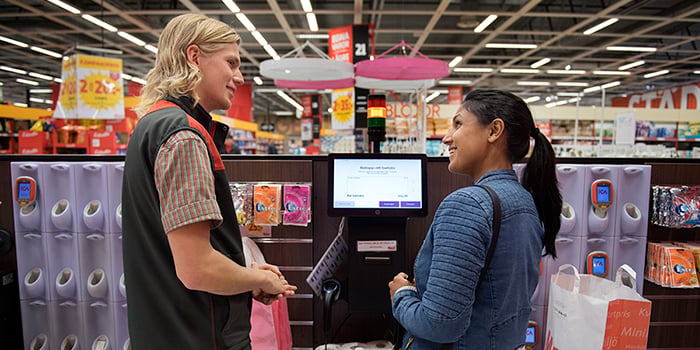 The coronavirus and measures being taken by ICA Gruppen
At ICA Gruppen we strive to make every day a little easier. Now people's daily lives are being impacted by the spread of the coronavirus, and this is also affecting daily life for us at ICA. We play a vital role in society, and we are doing everything we can to ensure that our stores and pharmacies are as safe as possible – both for our customers and our employees. The same applies for ICA Bank, which will continue to deliver its services and support as usual. We want to express immense gratitude to all our colleagues who are working hard to deal with the current situation in the smoothest and safest way possible for our customers.
- At ICA we have been dealing with the coronavirus situation for several weeks and taking proactive measures based on the authorities' recommendations, which we have adapted to our operations and even strengthened in certain areas, comments Per Strömberg, CEO of ICA Gruppen.
All decisions grounded in the precautionary principle
Every decision we take is grounded in the precautionary principle in order to protect our employees and customers as much as possible, and ensure that our operations can continue with as little disruption as possible. This is important in order for us to be able to continue delivering food, medicines, and banking and insurance services to people everywhere in society.
No shortage of food or medicines
Product supply remains intact, and at present our customers do not need to be worried about any general shortage of food or medication. We promise that we are doing what we can – in our stores, pharmacies and our warehouses – to ensure that you as a customer can continue to shop for the products you want, both in stores and online. In the vast majority of our stores and pharmacies, most products are available just as usual, and we are restocking as fast as we can. However, rapid changes in customer behaviours are putting high pressure on product supply, and this may result in slightly longer delivery times, leading to shortages of certain products in individual stores and pharmacies.
The situation is strained, but manageable. We have a continued good inflow of products from our suppliers.
Our businesses shall be as safe and secure as possible
We are doing everything we can to ensure that our stores and pharmacies are as safe as possible – both for you as a customer and for our employees. We have therefore further sharpened our hygiene routines in stores, pharmacies, in ICA's offices and at ICA's and Apotek Hjärtat's warehouses, with the primary goal to minimise the risk for contagion. When you order from us online, your products will be delivered outside your door, out of consideration for you and our employees.
We must now help each other. We need to be extra diligent about washing our hands, we need to stay home if we are feeling symptoms, and we need to support those around us – such as those who need help shopping. We do not know exactly how the situation will unfold, but we promise we will continue as much as possible to make every day a little easier for our customers – especially as daily life has become a little harder.