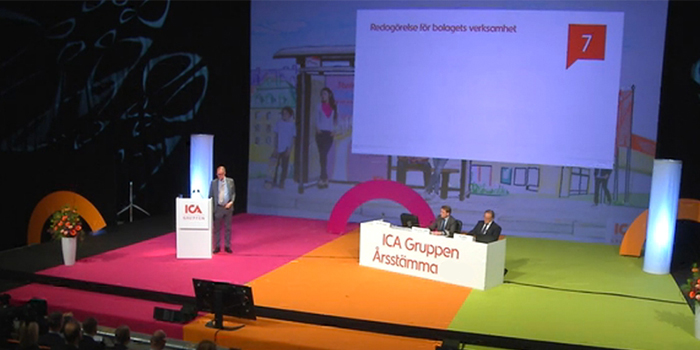 ICA Gruppen's Annual General Meeting is held in the Stockholm area during the first half of the calendar year. No later than on publication of the third-quarter report on the company's website, shareholders are informed of the time and place of the AGM and are informed of their right to have business discussed at the AGM. The notice of the AGM is published no earlier than six weeks and no later than four weeks prior to the AGM.
At the AGM information is provided about the company's performance over the past year and decisions are made on a number of central issues, such as adoption of the income statement and balance sheet, dividends, discharge of the members of the Board from personal liability, the number of Board members, fees to Board members and the auditor, election of the Board and auditor for the period up to and including the next AGM, election of the Chairman of the Board, composition of the Nomination Committee and adoption of principles for remuneration and other employment terms for the company's management.
ICA Gruppen always strives to ensure that the Board, Executive Management, Nomination Committee and the auditor are present at the AGM.
Entitlement to vote at ICA Gruppen's Annual General Meeting
Shareholders are entitled to participate in and vote at the AGM if they are recorded in the register of shareholders and have announced their intention to attend by the specified deadline. Shareholders who are unable to attend in person are entitled to appoint a proxy. All printed information is available in both Swedish and English.
Each shareholder entitled to vote due to ownership of both ordinary shares and C shares in ICA Gruppen may vote for the full number of the shares owned and represented by the shareholder without restrictions to the number of votes. Ordinary shares, but not C shares, carry entitlement to receive cash dividends.
Business at the AGM
Shareholders who wish to have a matter considered at an AGM or who have proposals or views regarding the work of the Nomination Committee, may submit their proposals within the specified deadline announced by the company to ICA Gruppen's General Counsel Per Behm at the address below:
Letters:
ICA Gruppen AB
Attn. Per Behm
SE-171 93 Solna

Archive
Here you will find information and related documents from ICA Gruppen's AGMs.
Annual General Meeting 2021 ›
Extraordinary General Meeting 2020 ›
Annual General Meeting 2020 ›
Annual General Meeting 2019 ›
Annual General Meeting 2018 ›
Annual General Meeting 2017 ›
Annual General Meeting 2016 ›
Annual General Meeting 2015 ›
Annual General Meeting 2014 ›
Extraordinary General Meeting 2013 ›
Annual General Meeting 2013 ›
Annual General Meeting 2012 ›
Annual General Meeting 2011 ›
Annual General Meeting 2010 ›
Annual General Meeting 2009 ›